stroud camra pUB OF THE YEAR
2014-2019
About
wELCOME TO THE ALE HOUSE
The Ale House is a proper pub, offering well-kept beer, proper pub food and a warm welcome. Established in 2012 we are a traditional Local Free House, a social meeting room, selling quality ales, wines & lagers and locally sourced food. As a traditional pub, beer is the main ingredient, but homemade food is also served 7 days a week. With a choice of sandwiches or main meals, all our food is prepared and made on site.
We welcome dogs, ramblers & cyclists - and also anyone who fancies some friendly faces on arrival.
No games machines, no pool table and no cordon bleu food menu to distract the taste buds - chat's the thing here - or perhaps a relaxing newspaper read, cribbage, dominoes, backgammon or shove halfpenny. The distinctive artwork is provided by local artists, music is normally available on Friday or Saturday nights and The Sado-Masochistic Quiz stretches all on a Sunday night.
Behind the bar you will find our lovely bar staff always ready to pour you a perfect pint or good glass of wine.
BEER & CIDER
OUR SPLENDID RANGE OF BEER & CIDER CHANGES EVERYDAY
FOR TODAY'S OFFERING AND FORTHCOMING beers PLEASE VISIT OUR FACEBOOK PAGE: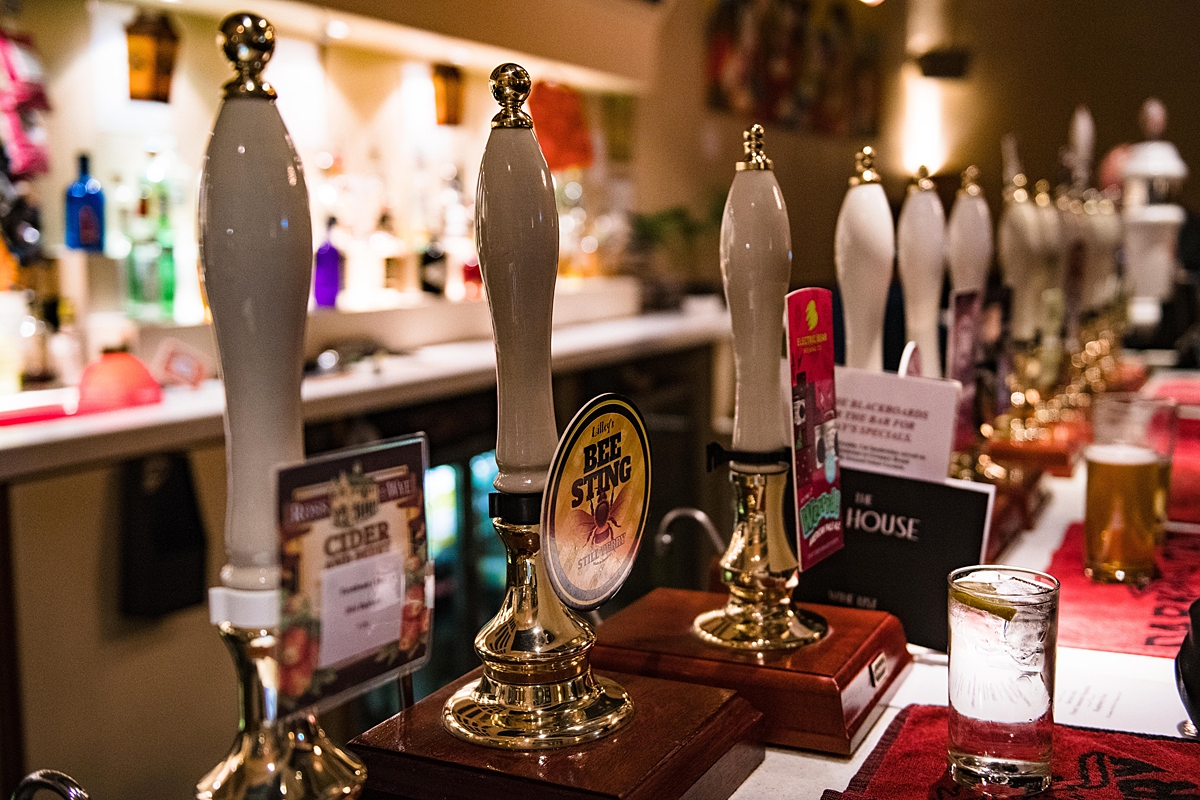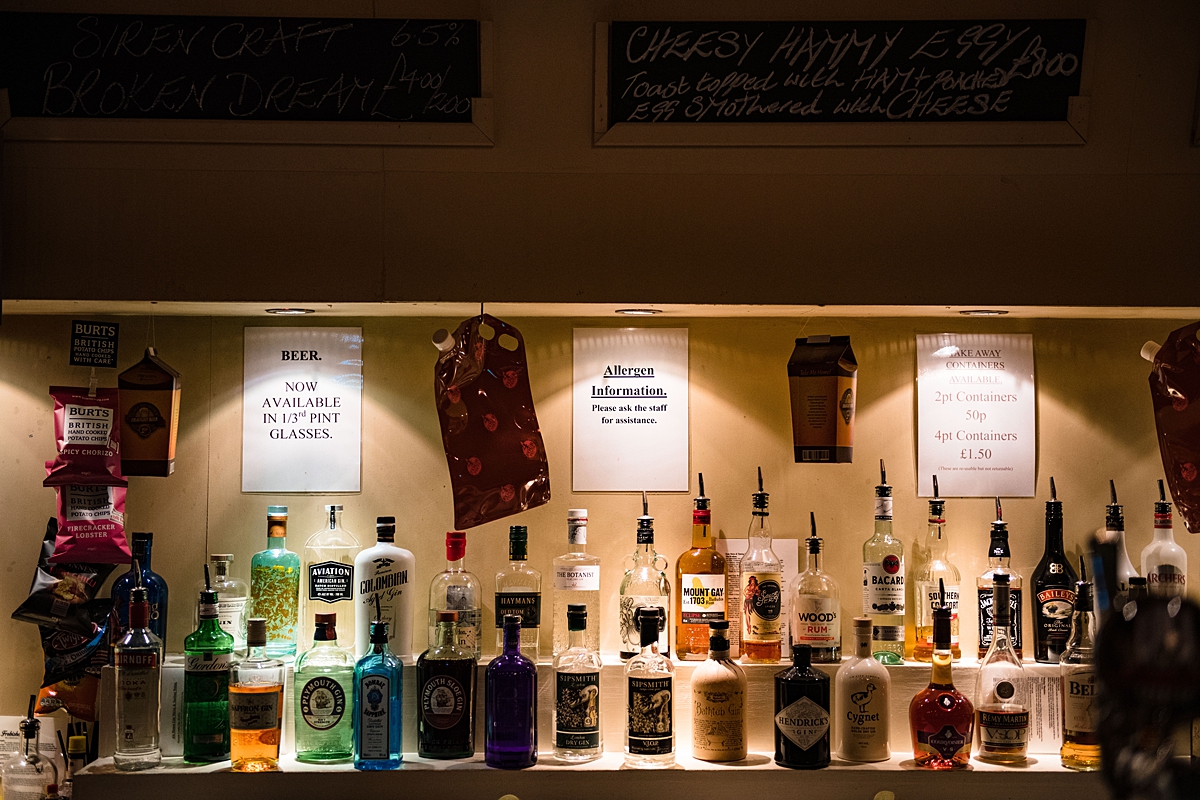 The Ale House is a free house offering a selection of ten British Ales. These include Burning Sky from Firle in Sussex, Tiley's just down the road in Ham, Electric Bear from the City of Bath & Siren Craft from Finchampstead in Berkshire and an ever changing range of guest ales from across the UK. Our ales come is ALL sizes - we serve in thirds, halves and an obscure, ancient measurement unit known as 'pints'! You can even buy a tasting board of three thirds for no more than the dearest pint.
We offer two fantastic lagers, poured to perfection, including the original Czech premium lager Budweiser Budvar and Dortmunder Union Vier brewed in strict accordance with the 'Reinheitsgebot' or Purity Order.
If that's not your flavour we also offer Draught Cider and Draught Perry as a selection of spirits and mixers. A short but carefully chosen wine list is also available with some great tasting everyday reds, whites and rose - all available by the glass or bottle.
HOME COUNTIES BEER FESTIVAL - 22nd-25th august
Join us over the August bank holiday for our beer festival - this time sampling the delights that the Home Counties have to offer!
See the beer list below:
BEER LIST

Zeppelin - Billericay. 3.8% (Essex)
Easy drinking session ale with slight smoky notes.

Easy Citra - Stardust. 3.8% (Berks.)
A subtle blend of American hops and pale malt body is all about. Except this one also has an extra burst of Citra!

Blonde Bird - Greyhound. 3.9% (Sussex)
A refreshing golden pale made using top quality Bavarian lager malts & Hallertauer hops combined with an English ale yeast to give this real ale a well-rounded dry finish.
Amelia - Park. 4.0% (Kingston-upon-Thames)
Golden pale dry hopped with Mosaic, notes of summer fruits with a heady aroma.
Heads Up - Paradigm. 4.1% (Sarratt, Herts.)
American style full-on hoppy ale with Mosaic hops added in the boil, in the fermenter & the cask. Four different golden malts give a broad depth to the flavour.
Perfect Pale - Farr. 4.2% (Wheathampstead, Herts)
Combining premium malt hopped with Sovereign & Cascade to create a powerful pale packed full of tropical & citrus flavours with a fine crisp bitter finish, a perfect combination of complexity & balance.
Win Win - Paradigm. 4.2% (Sarratt, Herts.)
A smooth & well-balanced best bitter made with depth of character. English hops provide a subtle bitterness & US hops, the aroma.

Smoked Porter - Fishers. 4.4% (High Wycombe, Bucks.)
Coffee, chocolate & wood smoke define this traditional porter. Fresh, zesty hops keep it light & drinkable.
Wilde - Bedlam. 4.4% (Ditchling, Sussex) Unfined.
An East Coast Pale Ale. Using Simcoe, Citra & Idaho 7 hops along with fresh fruit purees, this super light, unfiltered beer explodes with bags of passion fruit & guava character.
Buzz Light Beer - Elephant School. 4.5% (Essex)
A golden honey ale.
Black Listed - Farr. 4.5% (Wheathampstead, Herts)
This smoky, powerfully hopped India Black Ale is brewed with 3 types of malt & a considered combination of home grown British & imported US hops for a well rounded, punchy flavour.
Sprucie Bonus - Wild Weather. 4.5% (Reading) Unfined.
A Red IPA brewed with locally foraged spruce tips and dry hopped with Ahtanum. Deep red with malt flavours of oatmeal raisin cookie, and cherry character from the Spruce.

Double Act - 360o. 4.7% (Uckfield)
U.S. Citra & Amarillo hops come together in this fruity pale ale – expect hints of citrus, orange, lime, mango & tropical fruit.
Digital Interference - Kiln. 4.8% (Burgess Hill, W.Sussex) Unfined.
Super fruity Session IPA.

Sex, Drugs & Rock n'Roll - Billericay. 5.0%
A hoppy IPA with 3 American hops added 3 times during the brewing process.
English Pale - Fishers. 5.0% (High Wycombe, Bucks.)
Made with 100% UK Jester, Cascade, Olicana & Mystic hops, this IPA is clean, dry & refreshing.
West Coast Pale Ale - 360o. 5.2%. (Uckfield, E.Sussex)
True to its origins, this Californian style pale ale is packed with the fruitiest & most vibrant U.S. hops, both during the boil & dry hopping. The delicate pale & crystal malt grist balances the fresh bitterness.
Lion Face, Lemon Face - Wild Weather. 5.3% (Reading, Berks.) Unfined.
Lemon meringue pie in a glass. Tart lemon cuts though a smooth oat & lactose base for a soft but tart dessert experience.
Shepherd's Warning - Wild Weather. 5.6% Reading, Berks.) Unfined.
An India Pale Ale. The flavour begins soft and smooth building to a wonderful big hit of hoppy grapefruit, peach & mango.
Hop Tub - Stardust. 6.3%. (White Waltham, Berks.) Unfined.
Hops - Nelson, Citra, Simcoe & Mosaic This Double IPA packs the fruity flavours like your morning fruit juice. Don't be fooled though, there is also 6.3% in there.
FOOD
Served lunchtime and evening, we offer a menu of honest pub food, made with good fresh ingredients, specialising in curries and chillies. Find a spot to sit, order at the bar, have drink while your food is cooked, then sit back and enjoy.
Bar snacks include our own Devilishly Spicy Home Made Pickled Eggs!
MENU
SEE OUR BLACKBOARDS BEHIND THE BAR FOR DAILY SPECIALS
SANDWICHES
Our Selection of Freshly Cut Sandwiches served on Walkers Farmhouse or Granary Bread with a Fresh Dressed Salad Garnish
ADD A MUG OF HOMEMADE SOUP FOR JUST £2.50
Toasted Steak Sandwich // £8.00
Served with a Dressed Salad.
Roasted Mediterranean Vegetables // £5.25
with a Rocket & Basil Pesto
Pesto, Tomato & Mozzarella // £5.25
Grilled Halloumi & Cherry Tomato // £5.50
Prawn Salad Sandwich // £ 5.75
In a Lemon & Black Pepper Mayonnaise
A Serious Fish Finger Sandwich // £5.75
Served with Tartare Sauce.
Pork & Leek Sausage // £5.50
Served with Red Onion Marmalade.
Grilled Smoked Bacon & Blue Stilton // £5.25
The Classic B.L.T. // £5.25
Grilled Smoked Bacon & Ripe Brie // £5.25
Mature Farmhouse Cheddar // £4.25
with Red Onion
Mature Farmhouse Cheddar // £4.25
with Branston Pickle
Freshly made Tuna Mayonnaise & Cucumber // £4.25
with Freshly Ground Black Pepper & a hint of Fresh Lime Juice.
Ripe Brie & Cherry Tomato // £4.50
RIPE BRIE & CRANBERRY SAUCE // £4.50
SUNDAY LUNCH - 18th august
2-Courses £10.00
3-Courses £11.00
Home Made
Roasted Tomato & Basil Soup
//
Roast Loin of Pork Dijonnaise
Served with Apple Sauce,
Sage & Onion & A Rich Gravy
------or------
Mushroom & Stilton Tart
//
SERVED WITH Fresh Seasonal Vegetables
//
Lemon & Lime Cheesecake
AUGUST
ALL 8:30PM START UNLESS OTHERWISE SPECIFIED

Sat 3rd

The Chromotones

Six experienced musicians play a bunch of songs from their 2018 album Michelangelo and some new ones from the next album"

Fri 9th

Kevin Brown & the Shackdusters

Lap Steel & Slide guitar master Kevin Brown is currently working on album number 13 with help from his excellent road band. Come and hear a preview based on his love of and life amongst the blues musicians of Mississippi

THURS 15TH

Jazz - with the Dave Ayre Trio


Fri 16th

Route 61

Gloucestershire-based 5-piece blues band comprising well-seasoned and experienced musicians. Some members are familiar faces on the local blues scene, whilst others bring fresh inspiration and renewed vitality.


Fri 23rd

Slimline Shufflers

The Slimline Shufflers play a New Orleans style of rhythm'n'blues pioneered by such luminaries as Professor Longhair, James Booker & Dr. John.
Eric Arthur, Bristol's finest exponent of this piano style, provides a virtuosic base and is joined by Henry Slim bringing horn-like amplified harmonica & baritone vocals to the mix.


Sat 24th - 2pm

The Shaggy Dog Raconteurs

A folk/blues Americana quartet with a dash of jazz, ragtime and bluegrass. They write songs to make your grandmother blush and your grandfather whistle.


Sat 24th - 5pm

Molly-Anne


Molly-Anne is a young and upcoming musician from Gloucestershire, looking to make an positive impact. With a soulful, country inspired sound fused with elements of indie folk..


Sat 24th 8:30pm

Los Gusanmigos


Los Gusanmigos play an eclectic mix of blues, jazz, latin and afro-colombian music. Vivan Los Gusanmigos!
sun 25th - 2pm

Jazz with the world class Matt Hopkins on Guitar; John Graham on Sax & Dave Newton on Keyboards.


Sun 25th

Hipkiss

HIPKISS features Muddy Manninen (ex Wishbone Ash) on guitar and acclaimed British saxophonist and vocalist Patsy Gamble. The band play a mixture of their own original material and covers in a blues, rock, soulful style.


Sat 31st

Blu Town

Soul, blues, rock and roll - rarities and classic!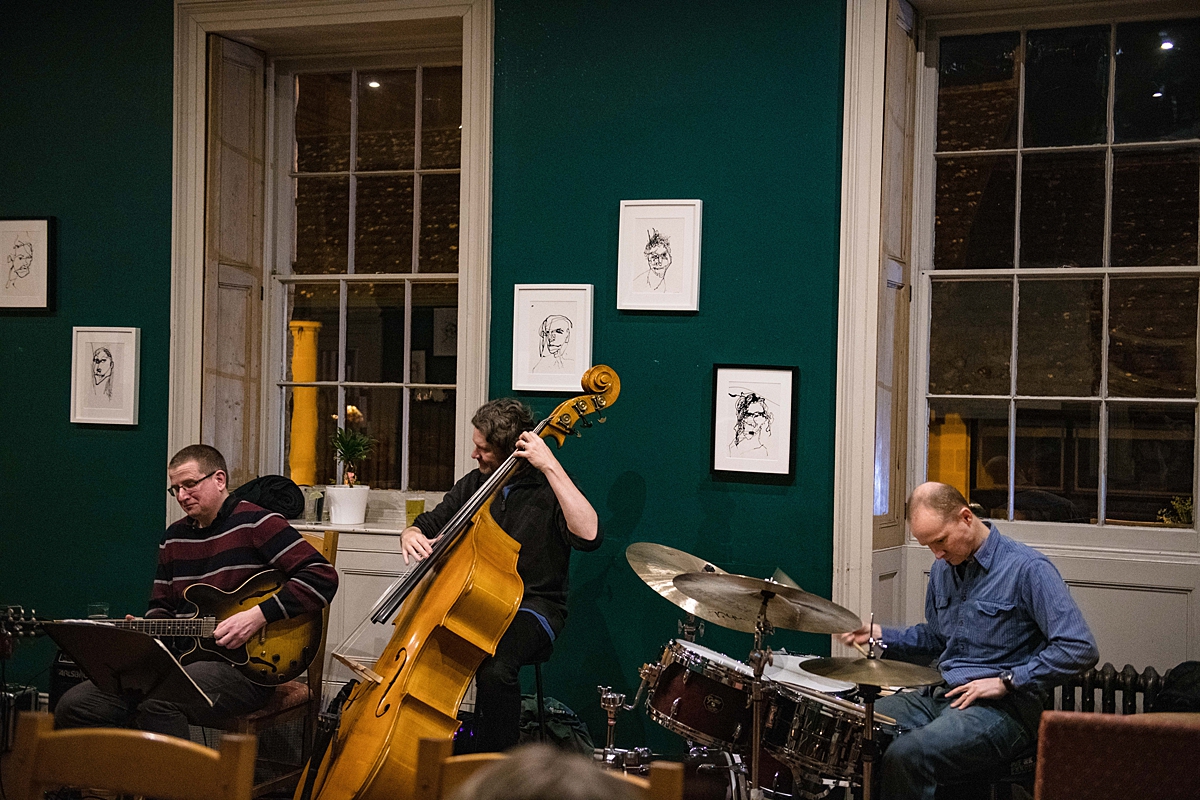 We offer weekly live music, either on a Friday or Saturday night with an eclectic programme of Jazz, Blues, Roots and Folk. As well as local bands and artists we welcome some of the UK's finest professional touring acts.
Once a month we host our very popular Jazz Night, hosted by bassist Dave Ayre. Dave never fails to put together an ensemble containing some of the region's (and occasionally the World's) finest Jazz musicians.
Our music programme is organised by a local professional musician, who would be happy to hear from you should you be interested in a gig. Experienced and reliable performers are invited to apply, providing you feel you have things in common musically with what we typically programme. Our music booker listens to everything submitted but due to the sheer volume of enquiries may not be able to come back to you straight away - but he does try his best!
When sending information please include links to live video footage where possible and information about your music. Visit our contact page to send us your music.
We are members of the Musician's Union Fair Play Scheme, meaning that as venue hosting live music we declare our support for the fair treatment of musicians and their opposition to pay-to-play and unfair ticketing deals by signing up to the Fair Play Scheme.
lOCATION
9 John Street
Stroud
GL5 2HA
TEL: 01453 755447
GENERAL ENQUIRIES
For general enquiries regarding the pub, our beer, food and events please complete the form below
MUSIC ENQUIRIES
To enquire about getting a gig at the pub please complete the form below